Starting an IGDA Student Chapter
Thinking of starting a game development club at your college or university? Or are you already part of a student-run group but you're have trouble connecting with professionals in the games industry? Consider joining the IGDA Student Chapter program!
What are Student Chapters?
IGDA Student Chapters are local, student-run organizations that serve the game-making community of a particular college, university, or other higher-education school. We have student chapters from all over the world.
Student chapters are typically named after the school that they are affiliated with. For example, the chapter for Macquarie University is called IGDA MQ, the chapter for Eastern Kentucky University is called IGDA EKU, and so on. Existing student-run clubs can apply to become their school's IGDA Student Chapter.
Each individual school has different needs and it's up to the student chapter leaders to determine how to best serve the school's student community. Here are some common goals that most student chapters have:
Help students network and socialize with other students who want to make games.
Prepare students for a successful career in games.
Help students learn more about game development and the games industry.
Make plenty of games!
Why Become an IGDA Student Chapter?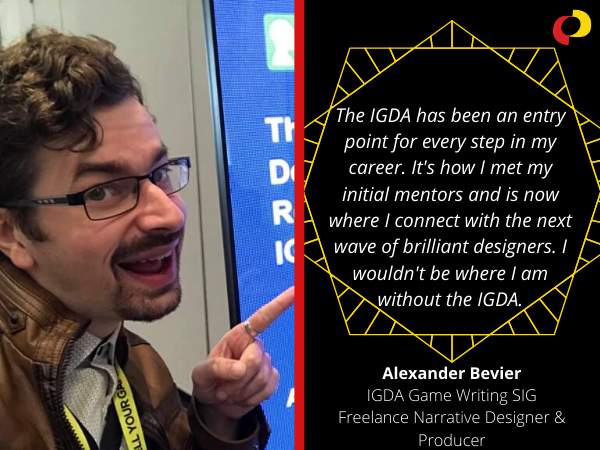 According to student chapter leaders, here are some of their most common reasons for being part of the IGDA Student Chapter program:
Break out of the local bubble — Many schools are geographically isolated from the rest of the games industry, many don't offer degrees (or even courses) on game development, and many don't have access to games industry professionals in their local community. As the International Game Developers Association, we do our best to connect our student community with game developers from around the world, and can work with you to bring awareness to game development as a career with your school.
Learn how to run better communities — The IGDA Student SIG hosts regular events where student chapter leaders share tips with each other on various topics: how to host successful game jams, how to develop a stronger sense of community, how to find content for regular meetings, and so on. You also get access to the IGDA's global community of volunteers, which includes professional chapter leaders, SIG leaders, and IGDA HQ.
Use the credibility and reputation of the IGDA — Chapter leaders frequently say that they have a much easier time attracting the attention of studios, professionals, and sponsors after their community became an IGDA chapter. IGDA Student Chapters have permission to use the IGDA name and logo when representing themselves.
Steps for Starting a New Student Chapter
Before applying, make sure you meet the following requirements:
Board Requirements — First, you must assemble a board of leaders for the chapter. You must have at least three board members: Chair, Vice-Chair, and Treasurer. Most of your board must be currently enrolled students at your school, and at least three of your board members must have an IGDA membership.
Faculty Advisor — Next, find a faculty member who is willing to act as the Chapter's faculty advisor. This person is employed by your school, college, or university. Their main responsibilities are to verify your affiliation with your school and to serve as a more permanent backup contact for the chapter since students graduate every year. Faculty advisors are not necessarily involved in the chapter's day-to-day work.
School-Specific Requirements — Most schools have established processes for formally registering clubs and student organizations. We expect all of our academic chapters to remain in good standing with their schools by respecting and following those processes. You may prefer to begin those applications with your school after your application with the IGDA is officially approved.
Fill out the Chapter Application. Please allow 2-4 weeks for your application to be processed.
Schedule a Call With Us — Once your application is approved, we'll try to schedule a phone call with you. It'll be a chance for you to meet with IGDA HQ, volunteers leading the IGDA Student SIG, and your regional chapter coordinator, and it's a chance for us to get to know your school's situation a bit better and to hopefully connect you with some resources, contacts, and provide tips to help your new chapter be a success.
Considerations for Existing Clubs
Does your school already have an established game development club? You may register your club as a new student chapter of the IGDA by completing the application in step 4 above.
Existing clubs usually have a name & brand that they've built everything around. Examples of these names include: "UA GameDev Club," "Spartasoft," "GDA Collab," etc. Meanwhile most student chapter names include the word "IGDA" plus the name of the school, such as "IGDA Ryukyus," "IGDA GBC," "UW IGDA," etc.
In certain cases, we may allow new student chapters to keep their existing name instead of renaming. We will have a conversation with you around the specifics of your club however in some cases, a club may wish to rename and use the IGDA brand. Here are some general considerations for those clubs who wish to keep their non-IGDA name.
The existing club must have more than two years using the current name.
The chapter must aggressively advertise its affiliation with the IGDA. Otherwise, you may accidentally create a situation where the club's own members don't even know that they are part of an IGDA chapter (yes, this has happened a few times already). This means you must include the IGDA logo next to every instance of your current logo, especially on public-facing materials such as posters, banners, website, and social media accounts.
If your group hosts big, public events outside the immediate scope of your school, such as public-facing conferences, expos, festivals, etc., then you may not use the IGDA's brand to promote that event—unless you agree to rename your group.
Ultimately, this is a trade-off that your entire board should consider together. There can be some short-term pain associated with rebrandings, but it's up to you to weigh that against the long term benefits.
Questions?
If you still have more questions about the IGDA Student Chapter program, please email us at chapsigdev [at] igda [dot] org.